11/1/17 We now accept Bitcoin as a form of payment, in addition to credit cards or cash.
AKC Chihuahua Puppies from BonBon Chihuahuas
We have been chosen as the
TOP CHIHUAHUA BREEDER IN TEXAS
by
PetChiDog
, the #1 Chihuahua Info Site!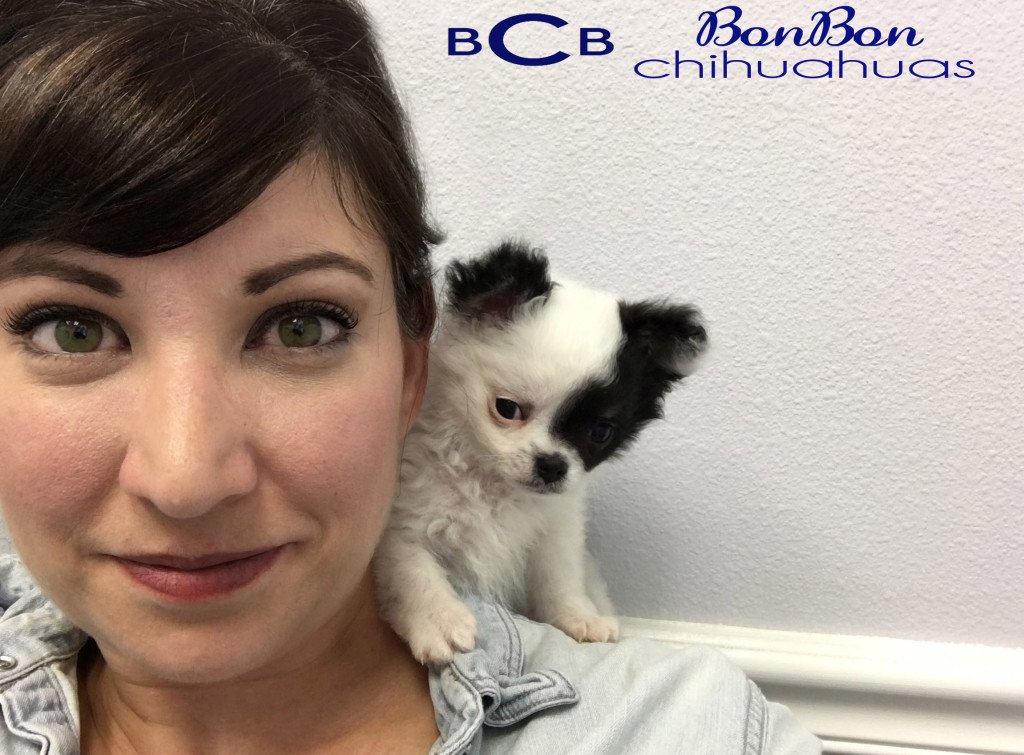 AKC Chihuahua Puppies
We have been voted Number One Houston Tx Chihuahua Breeder. If you are looking at AKC Chihuahua Puppies then look no further! We have been voted the Top AKC Chihuahua Breeder in all of Texas by www.PetChiDog.com We are not a large scale breeder. Dogs are raised in our home with litters and available puppies with very limited numbers. This is the best place to find information about AKC Chihuahua Puppies. Learn if a chi puppy under 6 pounds is right for you! We understand that chihuahuas are great for people who are limited on space and can really be a help for people who live in apartments, condos or high rise. This is the same reason ALL of our babies are litter box trained! We know it is difficult to look for AKC chihuahua puppies if you aren't local and must look only on the internet. This is why we do LOTS of high quality photos and videos. You can learn more about our puppies this way, instead of just seeing a couple of pictures. We DO NOT sell any of our chihuahua puppies to large kennels, backyard breeders or puppymills. We ask lots of questions, so don't be offended if we sound nosy and we reserve all rights to refuse to sell to anyone we don't see fit as a wonderful home for one of our puppies. Their health is my number one concern. This is why they are all raised indoors so they are all used to normal household noises and not scared of a vacuum cleaner, or the mailman, or a housekeeper. Unlike most chihuahuas, ours LOVE children. This is very unusual for the breed, but since our young daughter handles them everyday, they love playing fetch with her. Ours aren't nervous or "yappy". These are traits passed down by the parents and I won't bring in an adult who's personality leans that way. Our AKC chihuahua puppies are sweet, loving, outgoing and happy! We specialize in the tiniest of AKC chihuahua puppies in Chocolate, Sable and Lavender. With both long and smooth coats, our adult chihuahuas are registered AKC. Our Champion Bloodlines allow our pups to have small, square bodies, correct large ears, short muzzle, cobby legs, level top line and a well rounded "apple dome" head. Great outgoing personalities, our pups have gone on to be models for clothing lines. Where do celebrities get their puppies? Where do movie stars get their chihuahuas puppies? Our pups are owned by people who's faces you see on TV and in movies, those who you hear on your radio and others you just read about on the news. Who owns a BonBon? Our puppies have been seen on TV, People Magazine, and a multitude of articles on the internet. They've also been seen on CuteOverload.com and Pinterest.com. We are the USA's #1 Top Choice for HEALTHY, TINY and GORGEOUS AKC chihuahua puppies. We encourage and promote quality in the breeding of the breed and do all that is possible to bring their natural qualities to perfection. In addition we've also been chosen as the TOP AKC CHIHUAHUA BREEDER IN TEXAS by PetChiDog, the #1 Chihuahua Info Site! PetChiDog only awards one spot per state after a lengthy interview. This is why so many people have chosen us for their first, second and even fifth AKC chihuahua puppies!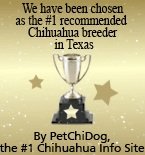 They are so hard not to love and bringing home a healthy and super socialized pup makes all the difference. No more "I bought a teacup chihuahua that turned out to be 15 pounds!" No more "I bought a purebred AKC chihuahua with papers, but now that he's grown up, he doesn't look like a chihuahua". These are things that you don't want, these are things you won't get with one of our pups. We have invested into very nice champion and champion sired adult chihuahuas and this is why our tiny chihuahuas are so gorgeous. The highest quality AKC chihuahua puppies are going to come from loving homes where they are exposed to children & household noises. Our pups are handled multiple times a day and are used to having their nails clipped and being held on their back, like a baby. Most of ours have tried on tiny clothes from a young age and are accustomed to them, most of them love wearing adorable outfits! Our chihuahua puppies aren't average because they love people and children and are very outgoing! My breeding program is based on an emphasis on sound movement, outgoing temperament and outstanding quality. All our AKC chihuahua puppies come with a health guarantee and are current on all shots and wormings. They are hand raised indoors with outside playtime for some important vitamin D. Our AKC chihuahua puppies are spoiled from day one so you get the happiest healthiest and most well adjusted pup possible. Available 24/7 for questions or concerns regarding your AKC Chihuahua Puppy. We also will take in the occasional chi rescue and help it find a new home. These dogs along with adults that are retired and looking for new homes will be listed on Facebook. Add us as friends to keep up with this! Looking to bring home AKC chihuahua puppies can be very stressful so we do all that we can to keep you informed about your puppy and help you make the best decision for you and the AKC chihuahua puppies. We like to call ourselves the Puppy Matchmaker. I do my best to match the perfect puppy with the perfect home. The most important factors when looking at micro AKC chihuahua puppies are size, personality, look, color & sex. Even if I don't have your perfect puppy, I will help find you a puppy with a reputable breeder! We hold ourselves to very high standards. If you are looking for AKC Chihuahua Puppies for sale we will do all we can to help you find the perfect one! Become part of the our family with your own chi puppy.
AKC Chihuahua Puppies
Christy Leach
Visit us in
Historic Alvin, Tx
713.899.8208
All images and information on this web site belong to BonBon Chihuahuas and is not to be reproduced in anyway, shape or form. BonBon Chihuahuas ©Copyright 2008-2015 All Rights Reserved. No part of this web site maybe taken without the express consent of Christy Leach, BonBon Chihuahuas.
For more

Chihuahua Information
Maltipoo Dogs