This is the pet carrier that I would have invented had I been so inclined, so I have no problem recommending it to you (and using my affiliate link). My dogs go through a ton of bones and toys, so my Amazon cart is always full of new things I'm trying and recommending, or telling you to stay away from!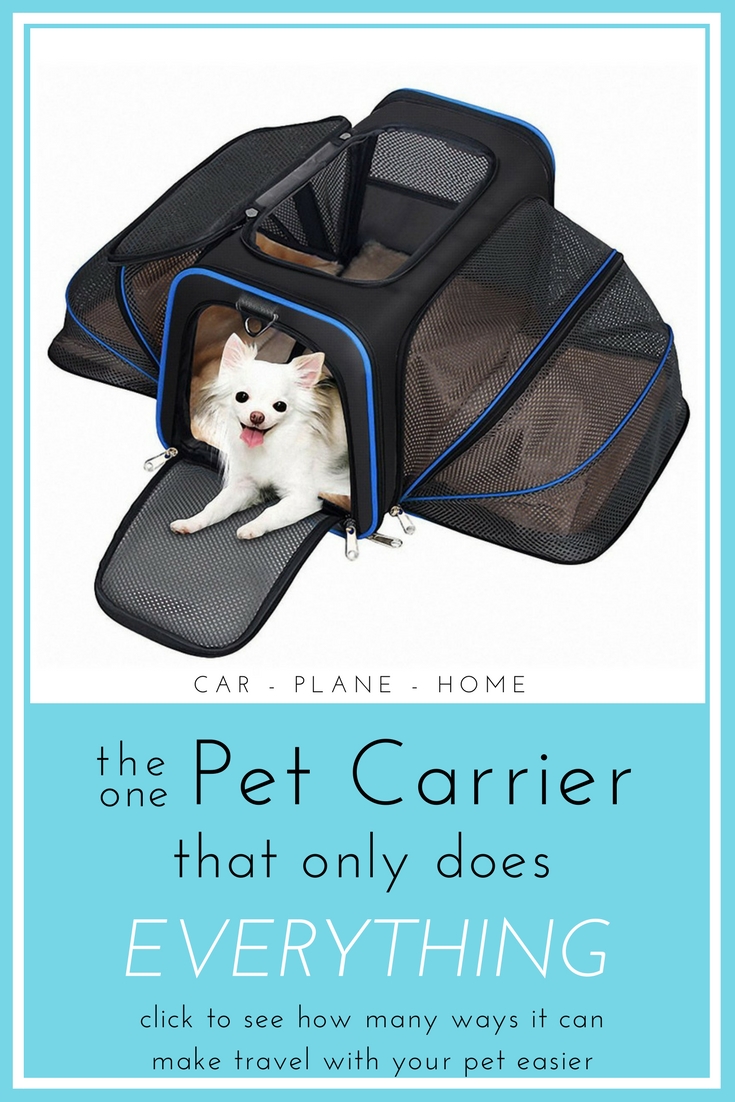 Oh my gosh, guys! I just bought this new expandable carrier because it looked so cool. It turns out, it's not cool…IT'S AWESOME!!! This pet carrier actually exceeds my expectation. I had a Martha Stewart pet carrier with wheels to transport my dog on airplane and it started to fall apart due to heavy usage. I was hoping to get a temporary one (less expensive) until I had a chance buy new one so I went with this. The carrier is made of durable material (including the mesh), and the best feature is definitely being expandable that allows my dog to stretch a bit. My dog went into the carrier immediately after I set it up. It does have a lot of zippers though so you have to be a little patient to fold/unfold. I am actually considering using this in long term.
Not only does it make a great travel pet carrier while on the plane, because it opens, it's great between flights. It let's them stretch out, with three times more space. Hands free because it fits on the handle of my rolling suitcase. It's a perfect dog car seat. Super easy to use. It has removable fleece pads, easy to wash. Easy to clean and folds flat. It's really well made, for the price. When I first saw it, I thought "ok, I'll try this but it's too affordable to really be as good as it looks". And I was wrong.
The best part? I leave it out for my puppies to play in. They think it's a blast to jump in and wrestle. My adults will sneak in, when the puppies aren't around and I'll find 3-4 adults all snuggled up in there. Chis do love to find small places to snuggle! If you are using this same carrier, let me know if you like it as much as I do!

Click to read our most Popular Posts