AKC Chihuahua Breeder – About us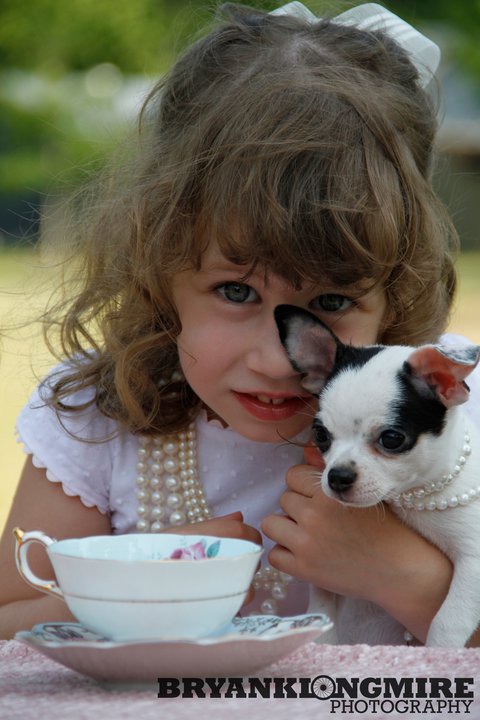 our daughter at 3 years old
 We are an AKC chihuahua breeder located in the Houston Texas area, although we ship all over the USA. The majority of our chihuahua puppies go to Los Angeles, New York City and all over Florida. We are a very reputable chihuahua breeder that has been chosen the #1 chihuahua breeder in the state of Texas! As an AKC chihuahua breeder, some of our chihuahua puppies have gone on to live in New Mexico, Missouri, Kentucky and New Jersey. I have served on the board of the Houston Chihuahua Club, I've been the chair of the auction committee and also been the chihuahua breed rescue contact for Houston with the Chihuahua Club of America. My husband and I have a young daughter who plays with the puppies everyday. We also have 1 year old twin boys who enjoy "giving sugar" to our adult chihuahuas, when supervised, but are separated from the puppies by baby/puppy gates. Most AKC chihuahua breeders don't have children, so their dogs aren't used to kids and can be quite terrified of them! All of our puppies have "done their time" – having been dressed in babydoll clothes and pushed around the house in a tiny stroller. They are used to laying on their back and having me trim their nails. They are used to household noises like the vacuum cleaner and the dishwasher. We keep a couple of litter boxes in the house, and they are great at running to find one when they "need to go"! The other members of our household are Marci, a retired blue & tan chihuahua and Pearl, a rescued Cocker Spaniel.
The main goal of an AKC chihuahua breeder is to better the breed.
As an AKC chihuahua breeder, health is a number one concern to me and we have all of our adults health tested for the three most common genetic issues -heart, eyes & patellas (knees). Most AKC chihuahua breeders don't bother to invest the time and money into this but it is very important to us.  This results in healthier chihuahua puppies! As a reputable AKC chihuahua breeder we treat our dogs like family. They are raised indoors with lots of outdoor playtime, during nice weather, for their daily dose of Vitamin D! We feed high quality food, that does not contain fillers like soy, corn and wheat. We even supplement with raw meat twice a week. Consequently, our dogs are healthier and have gorgeous, soft, shiny coats!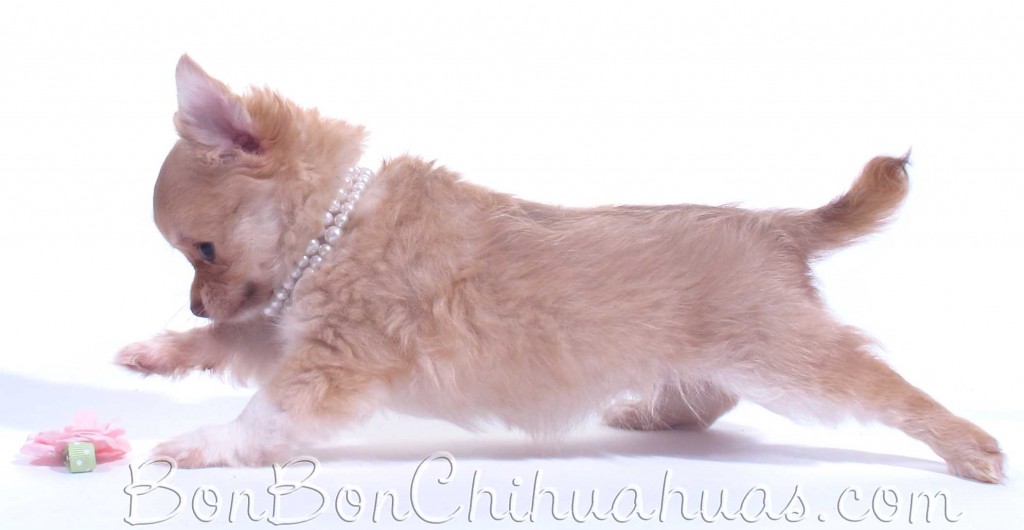 Our dogs are spend lots of time being socialized and this is why we are known as the AKC chihuahua breeder to come to for outgoing and personable chihuahua puppies. Our dogs love people and even small children. We choose adults with happy personalities so they pass those same personality traits down to their puppies. Our chihuahua puppies are not barkers, or yappers. This is something that is taught by their parents, and our adult chihuahuas rarely bark! Take a look at our chihuahua puppy videos . We have Florida chihuahua puppies and chihuahua puppies in PA.
AKC Chihuahua Breeder FYI
What makes a great AKC chihuahua breeder?
If you are looking for an AKC chihuahua breeder in Texas, or one that will ship to your state, here are some helpful hints. Beware of an AKC chihuahua breeder that wants to meet you in a parking lot. A reputable AKC chihuahua breeder will want you to see the parents of your new chihuahua puppy and see where it was raised. This will give you more insight into what to expect from your new chihuahua puppy. Do Not buy a chihuahua puppy at 6wks old. Because of their tiny size, we don't even finish weaning our puppies until they are 8wks old. Then we wait to make sure they are eating well on their own. We will ask lots of questions and sound quite nosy but don't take offense. It is our job, as an AKC chihuahua breeder, to find the best home for each of our chihuahua puppies. It truly amazes me (and worries me) when people don't want to tell me about themselves. You must understand that these are our babies. I am picky about the homes of my babies. I have had to tell people that I won't sell them a dog because their home isn't a good match for the puppy they are interested in! You need to look for a puppy that was bred and raised by an AKC chihuahua breeder who values the health & safety of the dog over everything else.