Here are some of our favorite places to shop
looking for xxs chihuahua clothes? your best bet is to buy from someone who hand makes them according to your chihuahua puppy's measurements!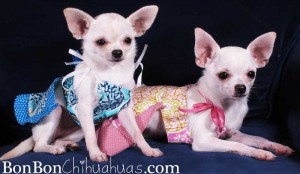 KO Couture – you can find their fabulous dresses and accessories on etsy.com

Crazy for Collars – the most adorable custom collars with bows on etsy.com
Christy Leach
Visit us in
Historic Alvin, Tx
713.899.8208
All images and information on this web site belong to BonBon Chihuahuas and is not to be reproduced in anyway, shape or form. BonBon Chihuahuas ©Copyright 2011 All Rights Reserved. No part of this web site maybe taken without the express consent of Christy Leach, BonBon Chihuahuas.