Chihuahua Puppies for Sale
Christy Leach 713-899-8208 bonbonchihuahuas@gmail.com
***Why settle for average – Bring home the highest quality***

Rare markings & colors, beautiful big appleheads, short noses, square bodies with short legs – the finest Champion Bloodlines
Website is updated daily
**Help support our favorite dog rescue PeaceLoveDogs**
________________________________________________________________
~~~Our "Gems" Litter~~~
Ruby
female – cream and white – longcoat – applehead – cobby body – AKC Champion Bloodlines
will be LITTERBOX and PEE PAD TRAINED
*PUPPIES ARE MUCH SMALLER THAN THEY APPEAR IN PHOTOS*
$3200 w/ Limited AKC paper
on HOLD for Tracey, this is her 2nd BonBon!

Sapphire
female – cream and white – longcoat – applehead – cobby body – AKC Champion Bloodlines
will be LITTERBOX and PEE PAD TRAINED
*PUPPIES ARE MUCH SMALLER THAN THEY APPEAR IN PHOTOS*
$3200 w/ Limited AKC papers
on HOLD for Vickie from Texas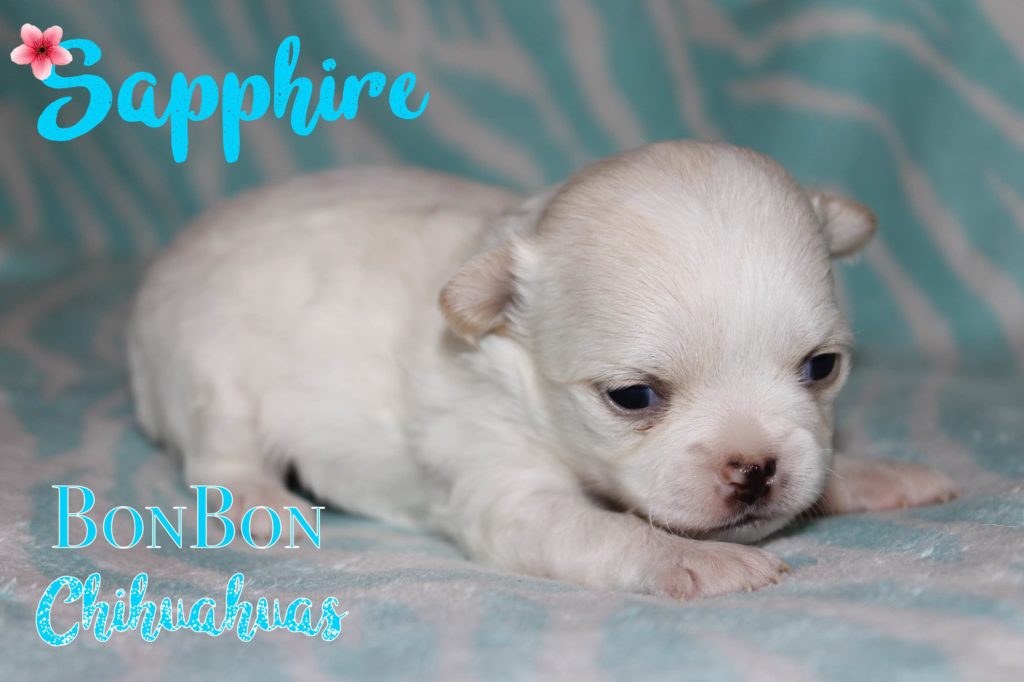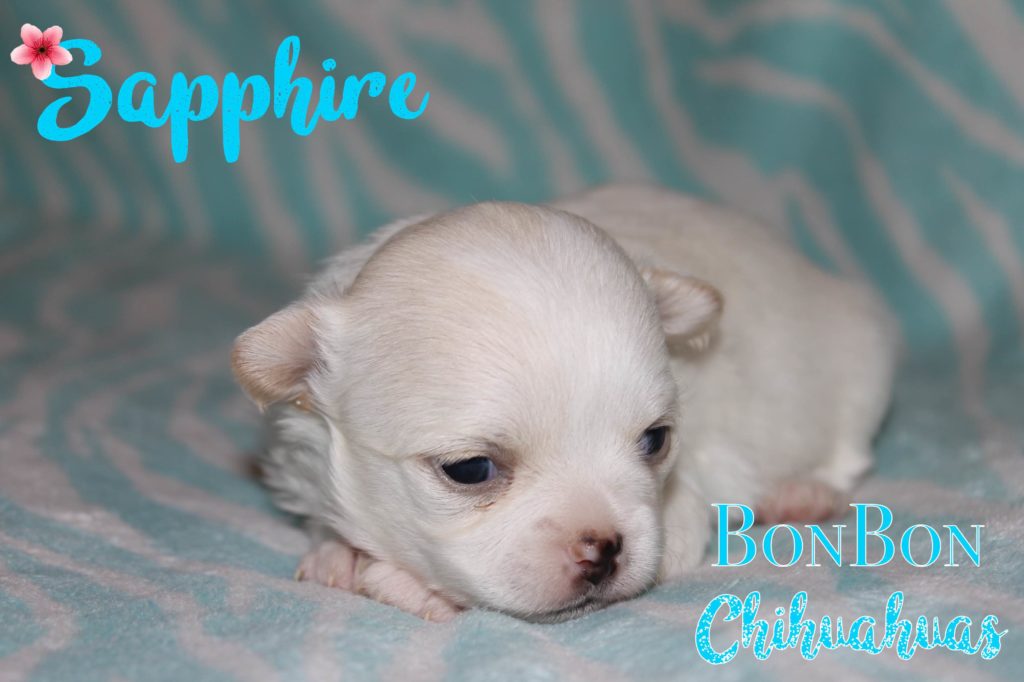 Christy Leach
Visit us in
Historic Alvin, Tx
713.899.8208
All images and information on this web site belong to BonBon Chihuahuas and is not to be reproduced in anyway, shape or form. BonBon Chihuahuas ©Copyright 2008-2018 All Rights Reserved. No part of this web site maybe taken without the express consent of
Christy Leach, BonBon Chihuahuas.
Chihuahua Puppies For Sale – Why choose ours?
When looking for Chihuahua puppies for sale, one of the first questions many people ask when looking is "why is it important that their pet chihuahua come from parents who are AKC registered and have championship bloodlines?" Common thoughts are "I don't care about the pedigree of these chihuahua puppies for sale, I'm not interested in breeding or showing" Why not just choose any cute chihuahua puppies for sale?
The truth is that there are several reasons why it is important for you to choose chihuahua puppies for sale whose bloodlines can be traced back generations and here are just a few of those very important reasons.
Guarantee That The Breed You Want Is The Breed You Get
When you are looking for Chihuahua puppies for sale, whose parents are AKC registered, you know that the puppy you purchased today is still going to look like a Chihuahua tomorrow and when it grows into adulthood. In order for a dog to be AKC registered it must be a purebred and the purity of the breed must go back generation after generation. This means there is no chance of you buying what you think are chihuahua puppies for sale only to discover that when it grows up it has been mixed with some other breed. No one likes to hear a stranger ask "what breed of dog is that?" when they have paid good money for a "purebred" dog. While mixed breed puppies are cute and in many cases a mixed breed dog can make a beautiful and great pet, when someone is looking for a specific breed of dog as a pet then purchasing AKC chihuahua puppies for sale from AKC registered stock will guarantee that your new Chihuahua puppy is all Chi. Unlike CKC, you can't just send in pictures of your dog and "promise" that it's purebred to receive "purebred" papers. And AKC is the only registry that requires kennel inspections. This helps to weed out the puppymills who've come up with gorgeous websites to try and fool people into thinking they have high quality chihuahua puppies for sale!
When the sire and dam of your new pet comes from championship bloodlines that means that your new puppy comes from bloodlines that conform to the the standard set forth by AKC & The Chihuahua Club of America. While this won't guarantee that your new baby will be the perfect specimen of the breed it does mean that you will be getting one great looking Chihuahua puppy. These are all great reasons why you should always check here first when looking at teacup chihuahua puppies for sale. If we don't have what you are looking for, I will always refer you to a reputable breeder! Photos of the new puppies are placed on the New Litters page until puppies are priced at 4 weeks of age.
Each of our Chihuahua Puppies for Sale have Fantastic Genetic History
Every breed of dog, Chihuahuas included, are given to certain genetic disorders. Looking at chihuahua puppies for sale from breeders whose breeding stock comes from championship lines means that you have chosen a breeder who loves the breed and is dedicated to breeding only the healthiest most well adjusted puppies possible. Any breeder who is dedicated to keeping AKC Chihuahua puppies for sale will spend the money to have their breeding stock tested for any genetic conditions. While this will not guarantee that your puppy will never suffer from a breed related disorder it does decrease the chances considerably.
Temperament of our Chihuahua Puppies for Sale

Choosing an AKC Chihuahua Puppy for sale from a good AKC chihuahua breeder who only breeds AKC registered stock with championship bloodlines, means that your new pet is more likely than not to be bred not only for looks but, also for temperament. In order to compete in dog shows a dog needs to not only represent the ideal of the breed when it comes to form but, it also needs to have a good temperament and be extremely friendly. Breeding generations of dogs who are known to have a good temperament increases the chances of the puppies of such parents having a loving and friendly temperament as well. This is especially important in the breeding of Chihuahua puppies for sale as many of the owners of these loveable pets take their "babies" everywhere with them and simply don't want a dog that is going to pose a risk to others.
However, keep in mind that simply looking at chihuahua puppies for sale from a breeder of AKC chihuahua puppies may not be enough. You don't want your puppy coming from just a breeder of Chihuahuas, you want that breeder to love the breed and treat each and every puppy that is born in their home to be treated like a member of the family from the day it is born. We here at Bonbon Chihuahuas, are dedicated to our chihuahua puppies for sale and our breeding stock are first and foremost a part of our family. This means that we not only raise our Chi's to be healthy and well adjusted but, they receive an abundance of TLC and are extremely well socialized as is every baby born in our home. In addition to the happiest, most outgoing chihuahua puppies for sale, they are all litter box trained!
Perhaps that is why so many of our little BonBon Chihuahua puppies for sale end up being the adored pets of celebrities. All over there are cute Chihuahuas that came from us that are "stars" in the homes of Oscar winners, pop stars, and the familiar faces of those who appear on reality TV. Our little BonBons have been held in the hands of those big football players and live in the homes of the rich and famous. They are also the little darlings of ordinary people like you and like us. Anyone looking for high quality chihuahua puppies for sale find exactly what they are looking for with us.
Why are people looking for chihuahua puppies for sale? Empty nest syndrome is one of the reasons we hear on a regular basis. Kids are married/off to college, house is too quiet and we need a new baby! What types of people are looking for chihuahua puppies for sale: newly married, single, empty-nesters, in need of a family dog who is great with kids. Our tiny AKC chihuahua puppies love to travel!
Chihuahua puppies for sale, are not sold to puppymills or large kennels. The only time we will sell our puppies with full AKC papers is to a home that participates in AKC sanctioned dog shows. Looking for a show quality puppy? Email me and we can talk about what you are looking for when you look at our chihuahua puppies for sale! Our chihuahua puppies for sale are not always listed on the site.
When looking at male & female chihuahua puppies for sale, you must make a very important decision. Males are always my favorite, but that is because all of my girls are traitors. They LOVE my husband and ignore me, while Ringo and my other boys think I hung the moon! You can learn more info to help you decide between the sexes in your search for chihuahua puppies for sale here.
We have the tiniest teacup Chihuahua puppies for sale then you need to look no further than a quality breeder and that is exactly what you get with Bonbon Chihuahuas. All our chihuahua puppies for sale are AKC registered with championship bloodlines and most are champion sired! So why not visit our website and have a look around and see our Chihuahua puppies for sale either now or in the future. We have adorable videos of chihuahua puppies that will brighten the darkest of days.

You've found the most exclusive, fabulous Chihuahua Puppies for Sale