Houston Texas Chihuahua Breeder
Looking for a Chihuahua Breeder in Houston, Texas?  Want to save on the $350 shipping charge? Interested in a possible 10% discount for picking up your puppy in person? Buy fabulous BonBon chihuahua puppies in the Houston area. We will meet halfway, anywhere in Texas.
We a Houston Texas Chihuahua Breeder. Just about 45 minutes southeast of downtown Houston. Chihuahuas aren't as common here in Texas as they are in other states. I love having such itty bitty dogs when my friends all have labs & retrievers! My dogs don't know that they aren't a 120lb dog, since that is how big their personalities are!!! We are one of the top Chihuahua breeders, but on a smaller scale. It is important to find that in your Houston Texas Chihuahua Breeder. We keep a very limited number of adults so they get lots of love and attention. So our exclusive puppies are very limited and are highly sought after. If we don't have the exact puppy you are looking for, we will refer you out and help you locate your perfect puppy with other Top Chihuahua Breeders. These have the highest standards and their dogs are number one.
Getting your new baby from a Houston Texas Chihuahua Breeder will save you time and money. That is in addition to the joy that owning your own little BonBon will bring to your life. Plus with the amount of local dog parks, there will be lots of things to do with your new pup! Picking the best Houston Texas Chihuahua Breeder is the first step.
While we do take very close up pictures and post lots of videos, it can be so much more fun to come see them in person at your Houston Texas Chihuahua Breeder. You can come visit when they are young, some people come once a month to visit with and play with their puppies until they are ready to go to their new forever home.
Searching for Chihuahua Puppies Houston? You've found only Houston Texas Chihuahua Breeder for healthy, gorgeous AKC chihuahua puppies.
Houston Texas Chihuahua Breeder
Houston Texas Chihuahua Breeder
Houston Texas Chihuahua Breeder Houston Texas Chihuahua Breeder
Looking for teacup chihuahua breeders? This is the place to learn why you should be SCARED!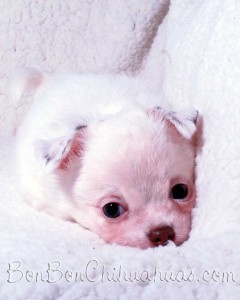 We have Chihuahua Puppi
Christy Leach
Visit us in
Historic Alvin, Tx
713.899.8208
All images and information on this web site belong to BonBon Chihuahuas and is not to be reproduced in anyway, shape or form. BonBon Chihuahuas ©Copyright 2012-2013 All Rights Reserved. No part of this web site maybe taken without the express consent of
Christy Leach, BonBon Chihuahuas.
es for Sale in Houston Texas
Chihuahua Puppies Houston Texas
We have fabulous tiny teacup chihuahua puppies for sale in Houston. If you are looking for a micro teacup chihuahua puppy for sale in Texas, we will meet halfway. This ensures that you get the highest quality champion bloodline chihuahua puppy. We also have chocolate chihuahua puppy, white chihuahua puppy, sable chihuahua puppy, lavender chihuahua puppy.
Chihuahua Puppies Texas
Chihuahua Puppies for Sale iHouston Texas Chihuahua Breeder